Pippa x CELLRETURN: Turning 40 and 2 weeks into my trial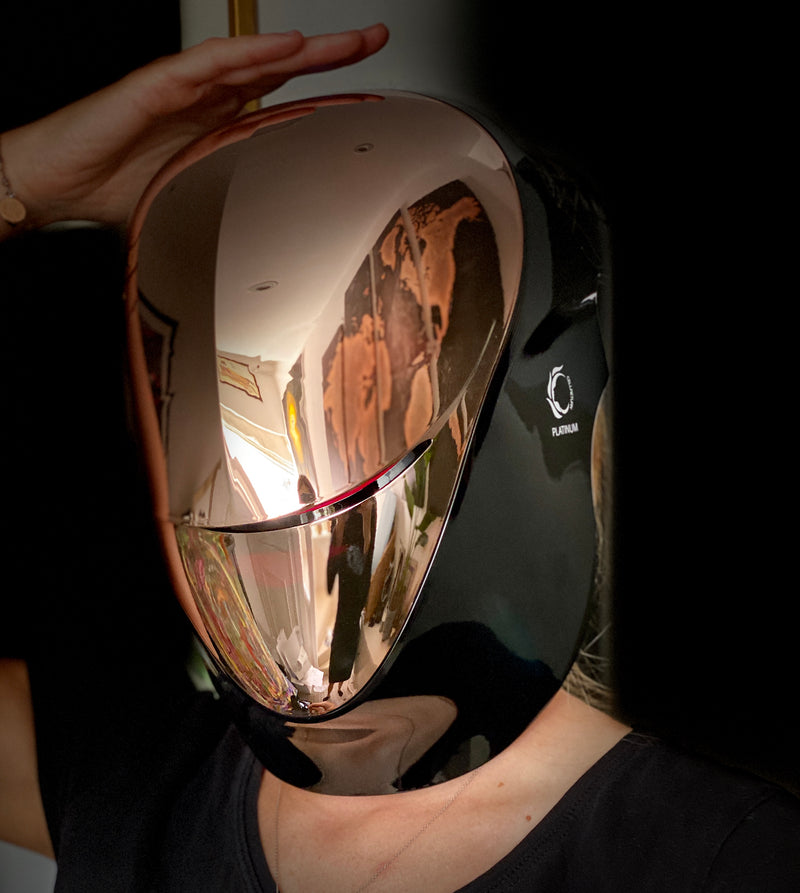 My review of the CELLRETURN Platinum LED Mask after 2 weeks of use.
Entering the big four O was a scary time. I am suddenly more conscious of myself and feel older. Unlike all the other birthdays, the 40th seems a lot more daunting. As such I decided to spend more time on me, more self love and some pampering too.
So, 2 weeks ago I was given a CELLRETURN Platinum LED Mask for a 4 weeks trial, a perk of the job. I have to admit that when I first heard of the mask, I thought to myself, it's just another gimmicky tech gadget. On further research however, not only does it do what it says on the box but it looks super cool too. I got myself the black and gold one, though I quite like the white one, too. The black one is more 'Darth Vader', I think! I have now changed my skin care routine and even just after two weeks, I am seeing improvements.
Why is the CELLRETURN Platinum LED Mask a game changer in skin care routine? First and foremost, unlike all the other LED masks in the market, this one has 1026 LED lights, therefore making it the most powerful mask in the market. It is as good as if not better than the ones used in clinics and spas. It has 342 red wavelengths LEDs, 342 blue wavelengths LEDs and a further 342 of the patented NASA-derived Near Infrared LEDs. It is recommended to use the mask daily for 20 minutes for best results but they also have a 9-minute fast mode for the fast paced busy professionals. In the pandemic, going to the beauty clinic may prove challenging, therefore having a professional device at home that is your own so you are not sharing is ideal. This is one of the times when not sharing is caring!! Especially now that we may face a second lockdown (who knows?!) having this at home is a real saviour. 
I must say it is very easy to use. I charged it for about 5 hours after unboxing and the charge lasted me for about 6 – 7 uses, so about a week. I really like the sci-fi look and the design. Being wireless, I could use it freely and even walk around. It comes with two face shields – one is the gold shield as seen on catalogue and the other is silver with eye holes. I like both, when I want to completely relax, the goldie one is great but when I have to keep an eye on the children, the silver one comes in handy. I use the app on my phone, both as a remote control and also as a log of what I have used.
Generally, I use the red mode which is anti-ageing and collagen stimulating. This I am told combines the patented Near InfraRed and Red WaveLength. I find that this mode is good for maintenance, skin texture – pores, hydration and elasticity, skin appearance – always giving me a good glow. Within the first use itself, I have noticed the glow immediately and I feel great. I have even reduced my use of foundation since starting to use the CELLRETURN Platinum LED Mask.
Just before the time of the month, when I feel a zit or two may be popping out to the surface, I use the blue mode. The Blue WaveLength is said to be antibacterial and helps control sebum production. Honestly, I was surprised when after 2 days of the blue mode, I had no zits popping to the surface at all. For the first time in many years, I had no break outs during the time of the month! I was beyond ecstatic to see such amazing results.
The pink mode helps to reduce inflammation, calm the skin and helps with scarring. I have sensitive skin and sometimes when I am stressed or when the weather changes quite drastically (which is often the case here in the UK), my skin becomes red and blotchy. This is when I use my pink mode and immediately after, I feel the difference. My skin feels 'normal' immediately after the session and I can actually see the reduction of the red blotchy patch. Almost like a miracle, but of course, the science behind the LED lights and their anti-inflammatory properties are at play.
I tend to use my mask in the mornings mostly, before the school run so I have that skin glow when I meet the other mums at drop-off! I combine my session with meditation in the morning. AirPods with meditation music on, platinum mask on and we are set for a 20 minutes mind, body and skin rejuvenation.
So, my verdict on the CELLRETURN Platinum LED Mask is a resounding positive yes, yes and yes. I will definitely be keeping it after my trial. Very thankful that the company will kindly give me a discount and being one of the first few to trial it. It is an investment but seriously a very worthwhile investment. I think about the sessions I used to have in the beauty spa (usually about £250-£450 per treatment). I would have spent more in the long run and this pays for itself after about 6-8 sessions, and you don't have to travel or share! My husband has been wanting to try it, too. Good thing is I can clean the inside with anti-bacterial wipes for him to have a go. Of course, I am not sharing in the long run. He can get his own!
I will be blogging more about skin with CELLRETURN so if you have any queries, please drop me a line.
Love,
Pippa xx